Our last day of cycling dawned cold but with bright sunshine and it improved as the day progressed. As we continued south, the views became more and more spectacular: Dunrobin Castle in the early morning sunshine set against the bay and the mountains (why didn't we stop to take its photo?), Dornoch Firth surrounded by mountains seen from the bridge over the Firth, the town of Tain with its mountain backdrop (stopped here for another hot chocolate!).
After Tain, we chose to take the minor road to the Nigg Ferry, thus avoiding most of the rest of the A9 to Inverness. This was an excellent choice. The road was quiet and scenic and also quite flat. As we rode the ferry we were able to look over the Cromarty Firth to the mountains which we had climbed several days earlier on our way north.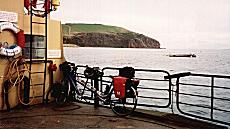 We had some fun on the Kessock Bridge over the Moray Firth into Inverness. There were roadworks on the bridge, reducing it to one carriageway. There we were, cycling for all we were worth over the bridge with a juggernaut right behind us all the way over!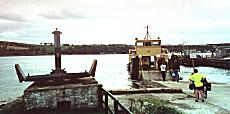 The rest of the run was lovely and fairly easy going on quiet roads. It was just the last few miles where we rejoined the A9 which was busy.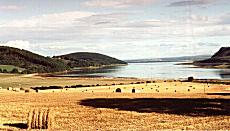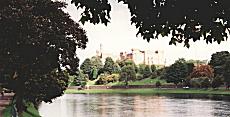 The 8am train on Saturday morning whisked us safely back to York where we were picked up by our son-in-law David with the tandem carrier on the top of our car. After 3 weeks in the saddle it felt really strange to be riding in a car again. It was some time before the reality of what we had done actually started to sink in.
We'd done it! And it felt good.